Sherri has been studying, performing and teaching music to students of all ages and proficiencies for more than thirty-five years in Texas, Virginia, Florida, Germany, Kansas, Maryland and Washington State. She believes that a solid foundation in reading music, well-developed technical skill and exposure to the myriad of musical genres will ensure that each student may enjoy a lifetime of musical expression.
A believer of continuing education, Sherri strives to refine and hone her craft in all areas of her musical abilities, to include performance and pedagogy. She is an avid educator, maintaining a private studio at her home in Universal City, Texas. She teaches students of all levels starting at age 6+. enjoying a mix of harp, piano and vocal students.
In addition to individual private lessons, my studio hosts periodic performance classes. During these classes students come together to have an opportunity to perform for their peers.
I enjoy working with students of all ages. For some, music is a hobby; for others, it becomes a vocation. Some students have continued music education through college, graduating with performance and pedagogy degrees. Whatever the case may be, my goal is for each student to grow a love of musical learning and personal musicality.
I enjoy creating a balanced program for each student, including:
I encourage students to participate in many different music programs, including The Royal Conservatory Music Development Program, and The National Federation Music Club Performance and Theory Festival. I also encourage students to seek out performance opportunities in their schools, churches, and community.
My music studio welcomes students of all ages. Previous musical study helps, but is not a requirement. Students will learn to use their instrument of choice as a vehicle for their own expression and the skills they learn will transfer to success in the future. Each student receives a tailored curriculum to match their specific learning needs. The studio is a positive learning environment that seeks to increase and maintain enthusiasm for learning music and discovering the joy of the harp, piano, and voice.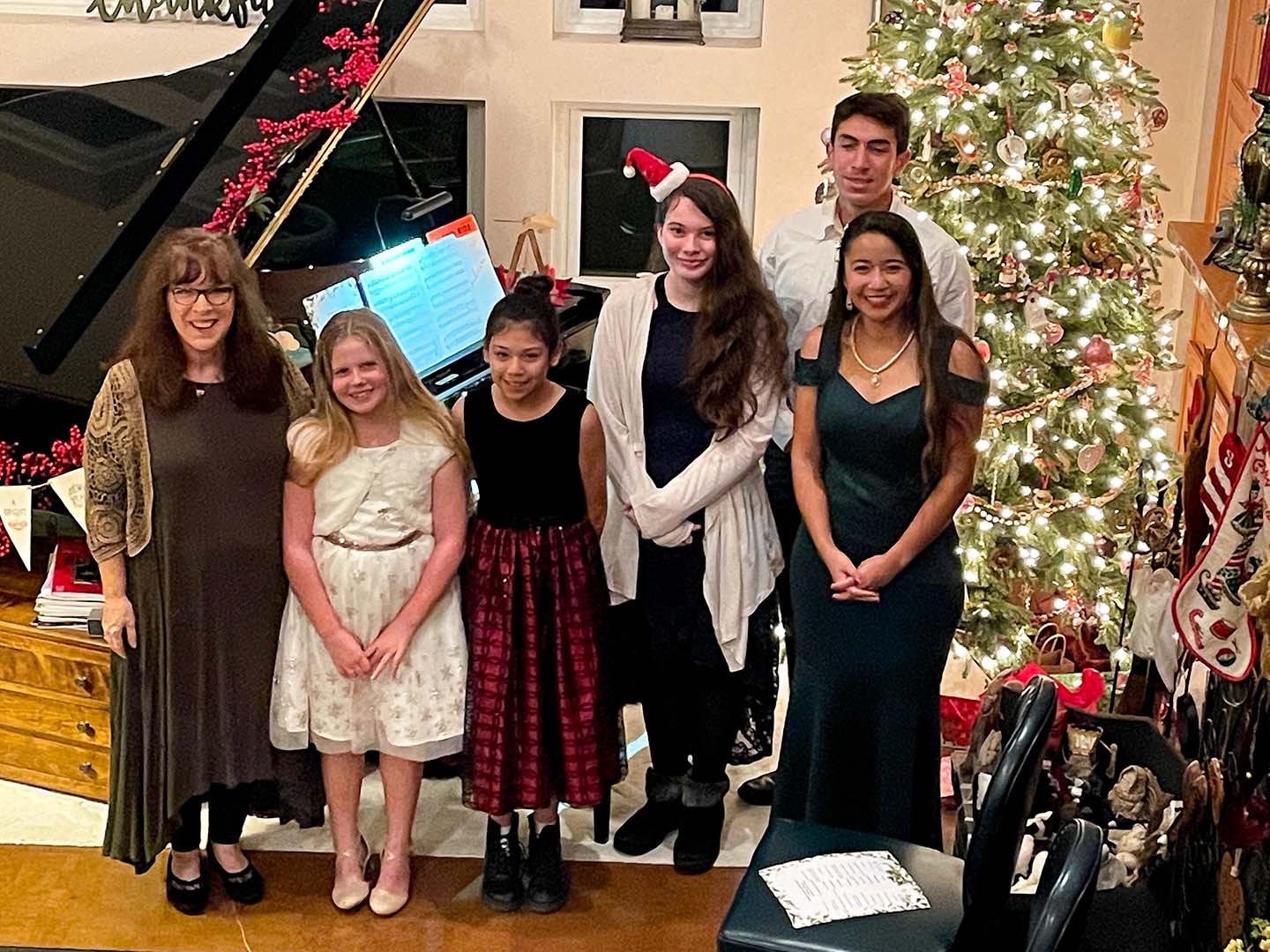 Lessons are available in 45, 60, and 75 minute weekly sessions. All students need an instrument available at their home for regular practicing and any online lessons. I also provide guidance for both outside purchase and rental.
Online Lessons and Covid-19
I have always offered online lessons to students for various reasons such as inclement weather, illness, or extended periods out of town. With Covid-19 and social distancing, online lessons have become a standard approach to continuing music education. Just as with in-person lessons, online lessons are available in 45, 60, and 75 minute session lengths. In addition to having an instrument at home, students will need a device capable of video conferencing, such as a smartphone, tablet, or laptop. Bigger screens are generally better for taking visual instruction. Online classes emphasize all of the skills mentioned above. Please see the
Online Lessons FAQ
for more information.
Sherri will help coordinate instrument rentals/purchases for students During lessons, students can play both pedal and lever harps, acoustic piano, and Nord 4 keyboard depending on interest and experience.
All ages are welcome, no prior musical experience necessary. Admission to studio is recommended after Meet & Greet appointment is completed.
Students or parents/guardians of students who are interested in lessons may contact Sherri at: